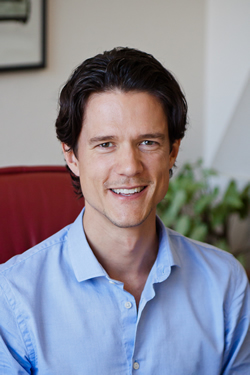 When I was a young man, several challenging life experiences both changed the course of my life and set me on a path of inner exploration and growth. This path of finding meaning and fulfillment in human connection and self-understanding found its outward expression in my eventual training and work as a psychotherapist. I believe that psychotherapy is one of our culture's most powerful and unique tools for change and healing, a rare space in our increasingly fast-paced world where we are able to reflect, share, cry, laugh, explore and heal without fear of judgment or not being heard.
I have helped dozens of adults and adolescents improve their lives, and navigate difficult and often painful situations and transitions. My previous career as a study-abroad educator in South Asia, and my long background in both meditation practice and music inform my emotionally grounded and present-centered, creative approach to psychotherapy.
My master's degree in counseling psychology is from the California Institute of Integral Studies, in San Francisco, where I completed two years of graduate and post-graduate training at the Pierce Street Integral Counseling Center. Following graduation I also worked for three years as a staff therapist and mentor with adolescents and their families at Coyote Coast Youth and Family Counseling, in Orinda.
Credentials
Licensed Marriage and Family Therapist, State of California. MFT# 79765.
California Institute of Integral Studies (CIIS) – M.A. in Counseling Psychology, 2011
Additional Training
2016: EMDR (Eye Motion Desensitization & Reprocessing); Level 3 Training
2015: EMDR (Eye Motion Desensitization & Reprocessing); Levels 1 & 2 Training
2015: Trauma Resource Institute; Trauma Resiliency Model (TRM) Level 1 Training
2012-13: Emotionally Focused Therapy for Couples; Core Skills Training
2012: Emotionally Focused Therapy for Couples; Externship with Dr. Sue Johnson
2011-12: Accelerated Experiential Dynamic Psychotherapy (AEDP); Year-long Training Intensive
2011: Accelerated Experiential Dynamic Psychotherapy (AEDP); Week-long Immersion Program with Dr. Diana Fosha
2011: Gottman Method Couples Therapy; Level-One Training
Ongoing: Accelerated Experiential Dynamic Psychotherapy (AEDP); AEDP West Sunday Seminar Series
Affiliations
California Association of Marriage and Family Therapists (CAMFT) – Member
AEDP Institute; New York – Clinical Member
The Psychotherapy Institute; Berkeley, CA – Clinical Member
Int'l Society for Psychological and Social Approaches to Psychosis – Member